The TruMACC Transition Program is a joint admission effort between Truman State University and Moberly Area Community College (MACC). Students are co-enrolled at both Truman and MACC, allowing them to enjoy the 4-year university experience while taking advantage of the affordability and diverse levels of academic preparation found at a 2-year institution.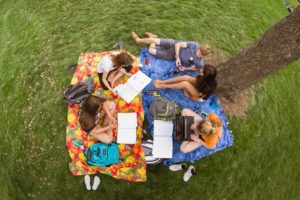 Students may enter the TruMACC Transition Program from a variety of avenues:
Fully admitted to Truman but prefer to attend a community college initially
Admitted to Truman contingent upon successful completion of the TruMACC program
Admitted to or attending MACC and referred to the TruMACC program by an MACC advisor
TruMACC students are enrolled full-time between both institutions (9-12 credit hours at MACC and 3-6 credit hours at Truman State University).
Minimum progress requirements include a cumulative combined 2.75 grade point average with no grade lower than a C.
Although formal application for transfer admission to Truman can occur after completion of 12 credit hours, earning the Associate of Arts degree or 60 credit hours with a 2.75 qualifies the TruMACC student for automatic admission to Truman.
Students who do not meet TruMACC requirements are subject to the institutional requirements of the two institutions.
TruMACC students are assessed the appropriate tuition, housing, and required fees at the respective institution.